Bellaire, TX Business Directory
Genesis Steakhouse & Wine Bar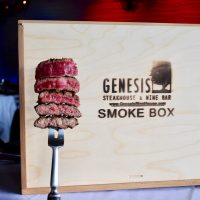 ---
Genesis Steakhouse & Wine Bar is a groundbreaking achievement, bringing unmatched glatt kosher dining and sterling service to the community.  Genesis promises to continually offer quality food rooted in age-old kosher values, which demand the highest selection standards.
Within an elegant and welcoming environment, Genesis deepens the roots of family-inspired dining with updated gourmet interpretations. You'll enjoy specialty selections from the classic bar to appetizers, soups, salads, entrée dishes, and desserts.
*Genesis Steakhouse is a certified kosher restaurant. Kosher means "suitable," "pure," and disease-free. Kosher is a healthy way of eating according to the laws of the Torah. As an example, for a cow to be certified as kosher, it must be healthy, without any infection or cancer. In the USA, only 1 out of 4 FDA approved cows is actually disease free, and is therefore considered kosher. For more information about kosher cuisine, please visit //www.koshercertification.org.uk/whatdoe.html
Hours
Reservations are recommended, but not required, and are available for lunch and dinner. We are open Sunday through Thursday from 11:00 am until 10:00 pm, Fridays from 11:00 am to 3:00 pm, Saturday from 7:00 pm to 12:00 am.
Reservations
Click here to Make a Reservation 
---