Bellaire, TX Business Directory
Sokol Volleyball Camps, Clinics and Lessons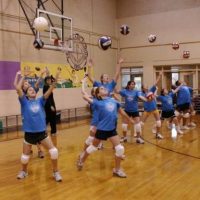 ---
Do you have a child who loves volleyball? Sokol Volleyball offers Hitting & Serving Lessons on a weekly basis in the Bellaire area on Sundays from 1-2 pm. Call 713-927-5014 or email debbie@sokolvolleyball.com to schedule your appointment today! Hitting & Serving Lessons are priced at $35 each.
Sokol Volleyball "Year-Round" offers group training for players from 8-18 years of age. Lessons are one hour in length. Players may take instruction in a Hitting and Serving Lesson any time of year. Hitting and Serving lessons include training of footwork, arm-swing and hand contact as well as serving instruction. For a complete listing of dates and times, visit our online calendar at www.sokolvolleyball.com
Sokol Volleyball "Summer" allows for an expanded slate of events in June and July with daytime sessions in Passing and Serving, Setting and Defense and Hitting and Serving. You can view the complete calendar of events online at www.sokolvolleyball.com
Sokol Volleyball "Private Client": For those clients interested in a more personalized training experience, we offer Private (one-on-one) and Semi-Private (one-on-two) Lessons. These one-hour lessons are priced upon request and can be completely tailored to your needs. 
Lessons may not be purchased online and are paid for at the time of the lesson. Please call or email us for an appointment today! First time customers save $10 off your first lesson. (Click the link at the top of this page to see offer).
---
All Lessons, both Private and Group, are conducted by Master Coaches, Debbie Sokol and Ap Clarke. Find out why we would love to train you!
Tel: 713-927-5014 to schedule your training today!
debbie@sokolvolleyball.com
---
For a complete listing of our training dates, times and news of the week including our Twitter feed, visit www.sokolvolleyball.com
While you are here, subscribe to our newsletter, VolleyBytes, by clicking right HERE!
---