Bellaire, TX Business Directory
Featured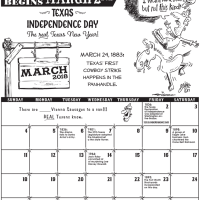 Texas Calendar
---
It's the one, the only Texas History calendar!
The Texas History Calendar that BEGINS on Texas Independence Day, March 2nd! (Only Carpetbaggers would use the other kind!) It's full of Texas History cartoons, Texas History Facts, and "Texas Truisms!"
Hey Teachers! Get the only Texas History cartoon teaching tool!
Native Texan, history buff, and cartoonist extraordinaire, Roger T. Moore creates a captivating collection of humorous historical facts set against the backdrop of Texas History.
This fun-filled factoid is sure to bring a grin on your face…even if you happen to be "one of them foreigners." Get a Texas Calendar to show your Lone Star spirit everyday.
---