Found Male Terrier Puppy
From the Friends of the Bellaire Pound:
FOUND 11/21/21: MALE TERRIER PUPPY "CRUISER" @ BELLAIRE POUND! This tiny and friendly male terrier puppy was found this morning around 8am at Evergreen and Alder outside the Loop in Bellaire. He has no tags or collar, and is not chipped. He was taken to the Bellaire Pound and is now being housed by Friends of the Bellaire Pound due to his small size and ability to escape the kennel enclosures. We have named him "CRUISER." If this is your dog ONLY, call the Bellaire Police Department at 713-668-0487. You will be required to show Officers PROOF OF OWNERSHIP including photos and vet records to claim this dog. The dog will not be released without this proof. All other inquiries regarding this dog, email friendsofbellairepound@gmail.com. Rescue group has already been secured if no owner can be located, and he will be available for local adoption, but we hope to find his owner!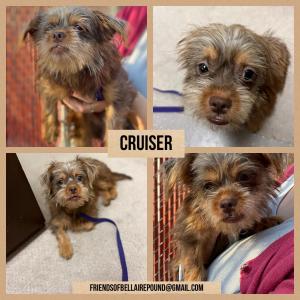 Update 2: Cruiser was adopted!
Update on CRUISER from FOBP:
While we are still looking for his owner, he is safe with us. He has spent the day meeting new people and getting lots of love. Cruiser is too small to stay at the pound and was squeezing through the pins. We were asked by BPD to hold on to him for his own safety. We need a new pound more now then ever before. Safer pound for dogs of all sizes!
Thank you to Bellaire Police Department for recognizing that the pound wasn't safe for him and giving us a call. Once his stray hold is up, if no owner is found, he will be going with our amazing rescue partner, Berg Foster Life - Animal Rescue! Get your applications in now!
** Guests may comment by entering name and email (email will not be displayed). Members, please log in to comment. **