Bellaire Tennis Court Policy Changes
Topic starter
June 2, 2023 4:30 pm
The City of Bellaire tennis court cancellation policy is changing June 1. The new policy is below.
Tennis Court Cancellation Policy
All online transactions include a non-refundable online processing fee which is separate from all registration/reservation fees and payments.
Due to high demand, all outdoor tennis and pickleball court reservations are final; No refunds or credits will be given for court cancellations or modifications, except for inclement weather or court hazards.
In the event of sudden inclement weather and/or hazards that render the tennis courts unplayable a reservation may be credited as long as Recreation Center staff are notified within one business day of the reservation start time. To notify the Recreation Center of an unplayable reservation, an e-mail must be sent to recreation@bellairetx.gov
Inclement Weather is defined as a weather event that renders the court unplayable, such as heavy rain. High/low temperatures and/or high winds are not considered inclement weather.
Court Hazards are any hazards that obstruct the ability to use the tennis court, such as (but not limited to):
Broken netting
Standing water
Malfunctioning court lighting (night-time reservations only)
Other physical hazards on the tennis court.
If you have any questions call the Recreation Center at 713-662-8280.  To reserve a court click here.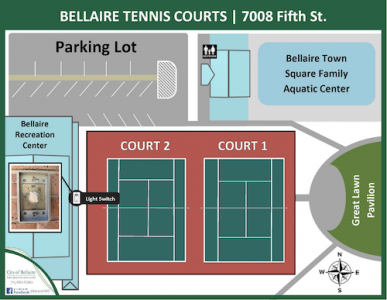 ** Guests may comment by entering name and email (email will not be displayed). Members, please log in to comment. **