In recognition of the Martin Luther King, Jr. Day Holiday, all Bellaire City Offices including the Library and Recreation Center will be closed and there will be no solid waste service on Monday, January 21, 2019.
Be prepared for street closures during the Houston Marathon on January 20.
The Art Colony Association, Inc., the producer of the Bayou City Art Festivals will announce the top 30 finalists for its 7th Annual Middle School Art Competition at the "Art in the Middle" reception.
---
---
Recent Bellaire Burglaries:
11/02  5000 block of Holt
11/07  5100 block of Evergreen
11/08  4500 block of Sunburst
11/11  5100 block of Palmetto
11/14  4300 block of Cynthia
Reports
Alerts
Forum
---
---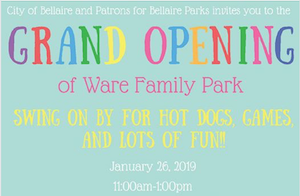 Come to the Grand Re-Opening of Ware Family Park located at 800 Jacquet Drive in Bellaire, Texas on Saturday, January 26, 2019, from 11am to 1pm. It will be a fun-filled play day of activities for the whole family.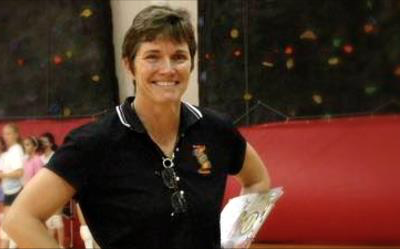 Bellaire High School Alum Debbie Sokol talks about how she became so passionate about volleyball that she created a series of camps, clinics, and lessons for girls to fill the gap between school ball and club ball. 

---

     follow us
---
    
A community website for Bellaire, Texas and surrounding neighborhoods
(Not affiliated with City of Bellaire Government)
© 2018 All Rights Reserved