We dodged the Hurricane Bullet - this time.
So, your leaning and loose, base-rotted fence post is still not down - for now.    Like a chain, a fence is only as strong as its weakest link, but know that "A Stitch in Time Saves Nine".     FIX THAT POST NOW with a MiracleFenceWorks "Triangle of Strength" Repair - economical, blends-well, and better than a new post.    Each Post Repair strengthens the post  on either side.    FIX now, Restore the whole standing fence later. But, we can even save a just-fallen fence should that happen to you.    PRESERVATION TECHNOLOGY at WORK.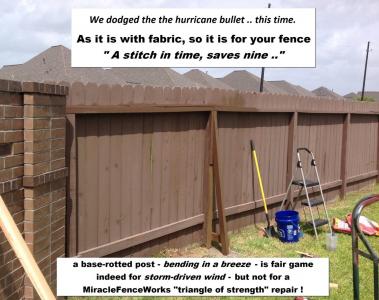 Call or email Larry Jones at LDJones59@yahoo.com 844-744-4050.      Learn more at MiracleFenceWorks.com  "Old to Gold for Years Untold".   
And, of course, we can straighten up and restore a "scoliosos" fence, that is, a fence with posts bent and leaning - LOCKED INTO PLACE - by the shifting soils of Bellaire.  "Twice the Value Half the Price" as compared to a new fence.  LDJones59@yahoo.com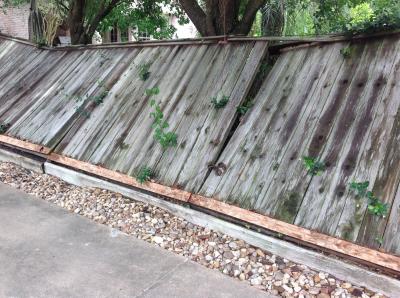 ** Guests may comment by entering name and email (email will not be displayed). Members, please log in to comment. **