Your new wood fence - let's PRESERVE its "new wood gold finish".
Yes, we restore old and older wood fences, but let's talk about that NEW wood fence that you may have.   You paid thousands of dollars for it, you or your insurance company, so why not PROTECT and PROLONG that beautiful gold/beige appearance by spending a few dollars more ?  
Just look at the two images below.   This was a new cedar fence in early 2018.   Images taken in Sep 2020.  Note the retained crisp gold/beige coloration - except for that round, greyish circle in the middle (the close-up in the first image) .   That circle is the MFW "Witness Mark".  Works this way, before we start on the preservation process, we attach a "mason jar lid" to the fence and leave it there until we are finished.  Then we remove it so that the original fence surface can weather just as the whole fence would if it had NOT been preserved, that is, protected by our service. 
By looking at the "Witness Mark", you can see that the 2018 New Fence would have turned grey by 2020.    UV turns it grey and water soak is the source of warping and nail-wiggle.   Our MFW preservative process PROTECTS AGAINST BOTH. 
Click on this link to see "What the weather can do to your wood fence, and we can FIX" .     Many Bellaire images and information.
MiracleFenceWorks.com   LDJones59@yahoo.com             844-744-4050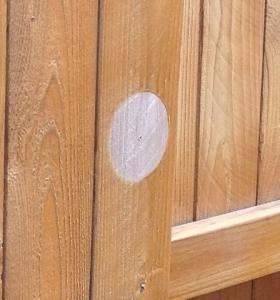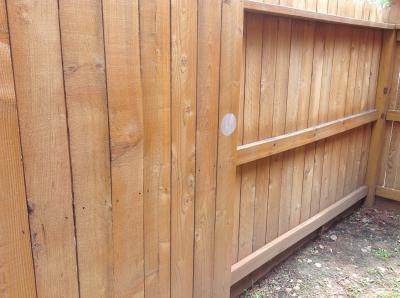 ** Guests may comment by entering name and email (email will not be displayed). Members, please log in to comment. **