Genesis Steakhouse & Wine Bar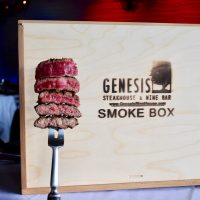 ---
Genesis Steakhouse & Wine Bar is a groundbreaking achievement, bringing unmatched glatt kosher dining and sterling service to the community.  Genesis promises to continually offer quality food rooted in age-old kosher values, which demand the highest selection standards.
Within an elegant and welcoming environment, Genesis deepens the roots of family-inspired dining with updated gourmet interpretations. Impeccably served in the warm surroundings of the "Tree of Life" Dining Room, you'll enjoy specialty selections from the classic bar to appetizers, soups, salads, entrée dishes, and desserts.
Private rooms available
If you're looking for a setting for a more private affair, guests may reserve Genesis' modern Wine Room. Accommodating up to 40 seated guests, the Wine Room is a perfect setting for engagement parties, graduations, luncheons, and business functions. If you require a more grand space, there is the fabulous Grand Banquet Room, a flagship multi-media meeting and dining room that provides an elegant space for 80 guests. The entire restaurant is available every Friday night for private parties, which can seat 200, or 300 for a stand up cocktail party.
**In practical terms the Sabbath starts a few minutes before sunset on Friday and runs until an hour after sunset on Saturday, so it lasts about 25 hours. That is why Genesis Steakhouse is closed to the general public from 3 pm on Friday until 9 pm on Saturday. Genesis Steakhouse and Wine Bar hosts corporate and social functions each Friday evening. Please call 713-665-2222 to book your event today.
Hours
Reservations are recommended, but not required, and are available for lunch and dinner. We are open Sunday through Thursday from 11:00 am until 10:00 pm, Fridays from 11:00 am to 3:00 pm, Saturday from 9:00 pm until midnight.
Reservations
Click here to Make a Reservation 
---