Bellaire Little League 11U Plays State Tournament Game 4 July 19
Topic starter
July 19, 2022 4:34 pm
UPDATE from Bellaire Little League:
Bellaire fought HARD!!! We didn't grab the title but we know what we accomplished to get to Tyler and to the CHAMPIONSHIP GAME.
Managers, coaches, parents, families, friends - THANK YOU for supporting these kids and our Bellaire baseball community. We will back next year FOR SURE!
---
Bellaire won game 3 with a score of 6-1 and will play tonight against Needville. If they win that game they will continue in a double header for the State Championship.
From the Bellaire Little League Facebook page:
LET'S GET LOUD BELLAIRE! The game starts at 5 PM TODAY
WE MUST WIN to play the doubleheader directly afterward for the CHAMPIONSHIP GAME and to defend the STATE TITLE.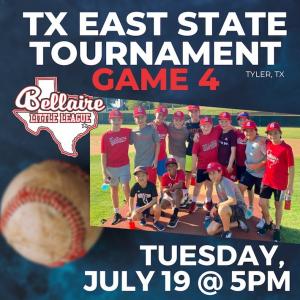 ** Guests may comment by entering name and email (email will not be displayed). Members, please log in to comment. **