Evelyn's Park Bird Donor Wall
Make a gift to the park in honor of your family or loved one. Bird tiles are now available for the Phase 2 Bird Donor Wall!
A work of art in its own right, the Bird Donor Wall stands at the entrance to the children's moundscape playground and the Splash n' Play area inspires children and families alike. 
The wall is a canvas for a colorful mosaic composed of metal panels with silhouettes of native birds. The colors of each panel are inspired by Texas wetlands. As a compliment to the existing Butterfly Donor Wall, families will enjoy choosing from a selection of images and colors
corresponding to their level of donation.
Purchase your tile here!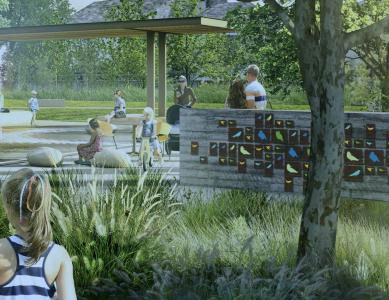 ** Guests may comment by entering name and email (email will not be displayed). Members, please log in to comment. **