Fine Free Week at Bellaire Library
From the City of Bellaire:
During National Library Week, from April 8-13, patrons can return overdue Bellaire City Library material and the fines will be waived.
How does Fine Free Week work?
April 8-13 only Bellaire City Library is welcoming back its overdue books and the patrons that read them.
Return any undamaged, overdue Bellaire City Library materials to the circulation desk or book drop.
Your late fines and any fines on your account will be waived and you can begin using your library card again.
You may also come in or call to have fines already on your card waived.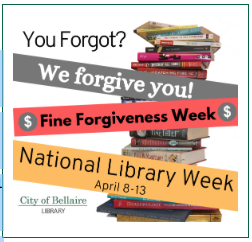 ** Guests may comment by entering name and email (email will not be displayed). Members, please log in to comment. **