Recreation Center Closed July 3-5
From the City of Bellaire:
The Recreation Center will be closed Saturday, July 3 through Monday, July 5 and will reopen on Tuesday, July 6. On Saturday, July 3, The Bellaire Tennis Courts will not be able to be reserved until after 2:30pm. For more information, contact the Bellaire Recreation Center at 713-662-8280.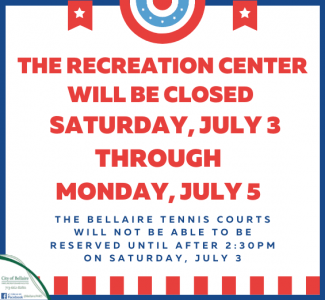 ** Guests may comment by entering name and email (email will not be displayed). Members, please log in to comment. **