Spaghetti Warehouse Pop Up Aug 27
Spaghetti Warehouse will reopen soon as Warehouse 72 but will have a Pop Up tonight at Evelyn's Park.
From Evelyn's Park Conservancy:
Please come out for a night to remember the good times had at Spaghetti Warehouse, and a night to welcome in Warehouse 72. Join us at Evelyn's Park Conservancy from 4pm until the last noodle is served. First come, first served so plan to pop in on the early side. Combo plates are $15 for adults and $8 for children (10 and under) with 15% of proceeds benefitting Evelyn's Park Conservancy. Each combo plate will include a classic Italian entrée from Spaghetti Warehouse and a new entrée from Warehouse 72.
The full menu for the Pop Up Dinner at Evelyn's Park will consist of the following options: 15 Layer Lasagne, Spaghetti & Meatballs, Spaghetti & Italian Sausage, Warehouse 72 Italian Pork Ribs, Warehouse 72 Spinach & Mozzarella Ravioli, and Warehouse 72 Herb-stuffed Porchetta. Warehouse Sangria will be served for $5, and Strawberry Lemonade will be served for $3.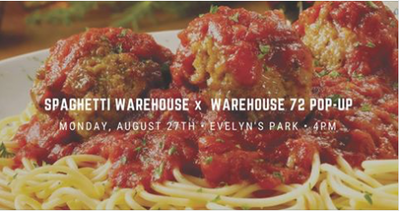 ** Guests may comment by entering name and email (email will not be displayed). Members, please log in to comment. **