Spring Soccer Registration Opens January 18!
Topic starter
January 10, 2022 3:50 pm
Registration for spring youth soccer begins January 18 for residents and January 25 for non-residents. The program focuses on skill development, team play, socialization, and having fun. The program is open for ages 4-10 and all teams are co-ed. For more information, visit the youth soccer webpage or contact the Bellaire Recreation Center at 713-662-8280.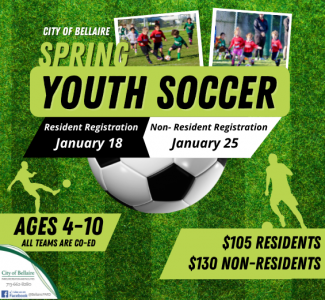 ** Guests may comment by entering name and email (email will not be displayed). Members, please log in to comment. **