Burglary of a Motor Vehicle - 5020 Bellaire
Offense Type: Burglary of a Motor Vehicle
* Issued: September 26, 2019
* Forwarded To: All, Public Release
* Issued By: Officer Liccketto – Public Release Edit – Officer Edwards
* Offense Date: September 14, 2019
* Location: 5020 Bellaire
Details:
On 09/14/2019 at 1058 hours, the victim was pumping gas when a Brown Nissan Xterra parked next to their vehicle.  A Hispanic male exited the rear driver side of the Xterra and entered the victim's unlocked vehicle.  The suspect removed two purses from the victim's vehicle and left the scene in the Xterra.  The suspect vehicle had fraudulent paper plates.
***** These crimes happen very fast and target unlocked vehicles.  The Bellaire Police Department reminds you to lock your vehicle when exiting, even if you are standing next to it.  
If you see a vehicle with dark tinted windows, paper license plates, and loitering in a parking lot, alert the gas station employees to help deter crime. *****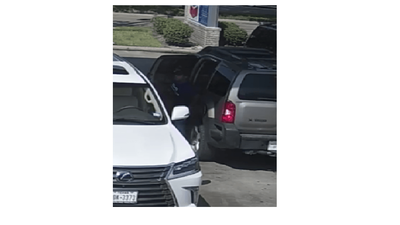 https://www.bellairetx.gov/1633/September-14-2019  
This happened to me during Xmas a few years ago at the then Mobil station on 610 and Main at 6:30 PM.  It was a well lit station.   I did not think anything of the car that pulled up behind me and the guy walked to the front of his car and started talking on his cell phone (probably signaling the gray sedan to pull up next to my car & steal my handbag in the passenger seat while I pumped gas).   My car was unlocked because the safety feature to unlock the gas fuel door requires a fully unlocked car.  Lesson learned: Now my keys and handbag are always on my person when I pump gas and I immediately lock my car after I get the fuel door open.  Of course, now I will probably get mugged for carrying my handbag.  I reported this to the Newcastle and Beechnut Houston PD station that is now closed since Hurricane Harvey.   Though totally empty, the HPD intake officer at the window made me wait and wait and wait before he gave me a form to fill out a report and only then did he inform me they would not even investigate.  Instead the HPD officer admonished for not knowing about the "Slider" thieves?   Should I know?   FYI:  I have had people come out of their cars while I am pumping gas at big, major brand stations demanding that I give them money so they can pay for a motel to sleep in.   I would avoid a gas station that was not located off a major freeway so the thieves can make straight away to the nearest Best Buy with your credit card,  but do you know of any gas station that is not located off a freeway?
** Guests may comment by entering name and email (email will not be displayed). Members, please log in to comment. **