West U Police catch car burglary suspect
From the West University Place Police Department:
Officers responded to multiple 9-1-1 calls regarding a suspect burglarizing vehicles in 4200 block of Lehigh. A witness was able to provide a detailed description of both the suspect and the vehicle used in the act of the crime. Upon arrival, officers located the suspect still driving around in the area. A traffic stop was conducted on the vehicle and the suspect failed to stop, resulting in a pursuit into Houston. The suspect eventually bailed from the vehicle, where a foot chase began and the suspect was able to elude police. Through investigation, officers learned the vehicle that the suspect was operating was stolen. An inventory of the vehicle led to the discovery of multiple stolen items connected the recent BMV's reported in West U. As evidence was collected, detectives began to follow leads which eventually led to the identity of the suspect, David Petty. WUPD Detectives obtained multiple arrest warrants against the suspect for Burglary of a Motor Vehicle, Evading, and Unauthorized Use of Motor Vehicle. The warrants were executed and the suspect is currently in police custody. The suspect does have previous history for burglary of a motor vehicle and evading.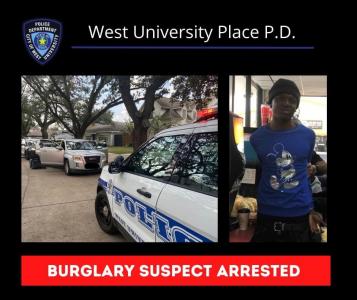 ** Guests may comment by entering name and email (email will not be displayed). Members, please log in to comment. **