Found 7/18/22: Male Husky
Topic starter
July 21, 2022 2:19 pm
From Friends of the Bellaire Pound:
UPDATE: 
MEET OLLIE FROM BELLAIRE POUND! Hi everyone, meet Ollie! 
This sweet male Husky came to the Bellaire Pound at nearly midnight on Monday the 18th, which means his stray hold is up tomorrow night! We don't have much hope for an owner showing up. Ollie came to the pound infested and absolutely covered in fleas, riddled with intestinal parasites, and with a severe eye infection. Ollie has had quite the busy two days since we met him! He spent the day yesterday getting all fixed up at the vet - thank you Chestnut! Today he got a soothing and clean groom - thank you Happy Dogs! And he went on a field trip with ACO Sapon at the Bellaire Police Department station, where he met all the awesome officers and "helped" dispatch (while napping). Ollie will now need your help to find an adoptive family or a foster/rescue group! He is 55 pounds, around 2 years old, heartworm negative, and one cool dude! Sadly, he has a congenital eye condition that needs surgical repair, but can be entirely healed with surgery! If you are interested in meeting OLLIE for adoption or fostering, or if you have rescue contacts that may be interested, please email friendsofbellairepound@gmail.com for more information. Let's get this boy on to his new life.
---
FOUND 7/18/22: MALE HUSKY @ BELLAIRE POUND!
This male Husky was found just before midnight on 7/18 on the 4500 block of Pine inside the Loop in Bellaire. He has no collar, tags or chip and is now in the Bellaire Pound. If this is your dog, call the Bellaire Police Department at 713-668-0487 with PROOF of ownership including photos and vet records to claim.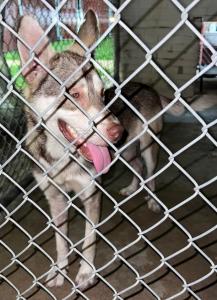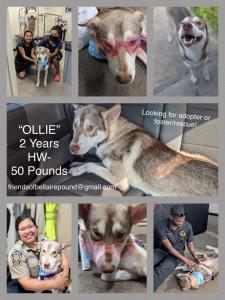 ** Guests may comment by entering name and email (email will not be displayed). Members, please log in to comment. **