Found: Male Tan Shepherd Mix
Topic starter
June 13, 2022 12:52 pm
From Friends of the Bellaire Pound:
FOUND 6/10/22: MALE TAN SHEPHERD MIX @ BELLAIRE POUND!
This male tan mix was found late last night 6/10 on Whipple Street in Bellaire. He has no tag, collar or chip and is now in the Bellaire Pound. If this is your dog, contact the Bellaire Police Department at 713-668-0487 with PROOF of ownership including photos and vet records to claim.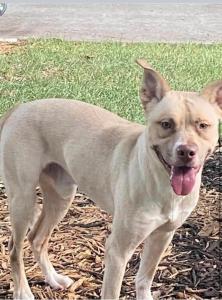 Topic starter
June 13, 2022 12:55 pm
Update from FOTBP:
Our precious boy never got claimed this weekend and is heading off his stray later today! We think he's just a puppy and is friendly as he can be! Big shout out to the Bellaire Police Department's Officer Rios for being a huge help at the pound this morning, assisting ACO Sapon to vaccinate and heartworm test Justin Furlander! Teamwork makes the dream work! And….he's heartworm NEGATIVE! Whooo! Check out the photos below to see the Snap HW tests that our new ACO performs on our pups in-house along with vaccinations!
We'll be looking for a foster and rescue group for Justin, is that YOU? Please share!!!!! Email friendsofbellairepound@gmail.com 
** Guests may comment by entering name and email (email will not be displayed). Members, please log in to comment. **