Found White German Shepherd
Topic starter
January 2, 2023 5:58 pm
From Friends at the Bellaire Pound:
MAJOR IS LOOKIN' FOR HIS FUREVER FAMILY OR RESCUE! Our amazing and gorgeous boy is ready to meet you! He is 2 years old, heartworm negative, 60 pounds and even kid/kitty friendly! Wanna meet him?? Email us friendsofbellairepound@gmail.com.
Major is also looking for a rescue if no furever family comes forward….he has a willing foster!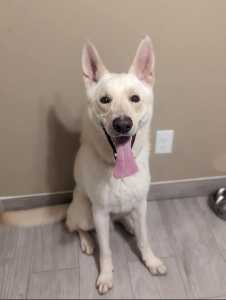 Hey! I'm Major (the handsome White Shepherd) and don't let my name fool you, I'm an easy going, ready for an adventure type of a guy.
I might not be winning any fetch awards (I just like to run) but I will definitely win over your heart with my mad snuggling skills. If a night of snacks, snuggling and sitcoms is your favorite - we may be a perfect match!
I am in my early twos, I don't have any of those pesky worms in my heart and I need to have a social life with my humans and other furry friends alike. I came across a thing the humans call, CAT. This CAT showed me who was boss and I decided to leave it be. Not quite sure about what this CAT thing is all about.
I will be your best friend.
Major is the neighborhood flirt who wants to be the center of your world. He is always on the hunt for cuddles and snuggles and will be loyal- maybe too loyal…. We don't think he understands personal space. Major is up for an adventure, a car ride or just a stroll around the neighborhood. He is ready to hitch a ride out of Texas and to find his forever home!
Major is approximately 2 years old. HW- dog/kids friendly. Potty trained. Kennel kinda trained
He cries for about 20 min and settles down. We think he will be better once he has a routine and consistency!
** Guests may comment by entering name and email (email will not be displayed). Members, please log in to comment. **