Missing injured Rescue Dog
From Facebook:
🆘 MISSING RESCUE DOG 🆘
Sunset and Kirby area!
Help!!! Please share far and wide!!!
Icarus - newly neutered, injured shelter / rescue dog - 4 yr old, 47lb black lab mix.
No collar and not chipped yet.
Had surgery on injured paw and got loose from the Rice Village area same evening (Tue, Nov. 5th) - will have front leg bandaged (not blue, tho, like in pic).
Friendly but may be skittish.
PLEASE call 832-228-1175 or 979-324-1503 with any sightings!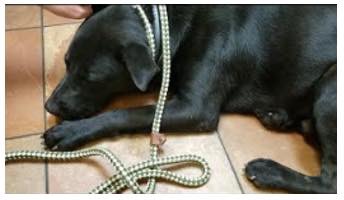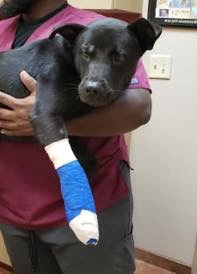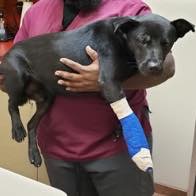 Latest Update on 11/9: Icarus was spotted several times today between 9:30 am and 2:00 pm running in neighborhoods on either side of STELLA LINK, between N BRAESWOOD and 610 loop. He is still wearing a blue collar, but his leg bandage is no longer on. He is very nervous, and would not come to anyone. Volunteers lost sight of him. If seen, DO NOT CHASE! CALL SARAH IMMEDIATELY at 979-324-1503.
UPDATE from Facebook:
ICARUS the INJURED RESCUE DOG is missing!!! Last spotted in 77025 in the 610 & Stella Link / N Braeswood area on Saturday at 2pm. He's limping due to injured paw!
4 yr old, 47lb black lab mix. Wearing BLUE COLLAR w/tags. No longer wearing leg bandage. Icarus escaped from the Rice Village area at night on Tues., 11/5 after having surgery on his paw. He was recently neutered as well.
❌🛑 If spotted, DO NOT APPROACH, CHASE, YELL, WHISTLE, CALL HIS NAME, FOLLOW IN CAR OR DO ANYTHING!!!! 🛑❌
INSTEAD CALL THESE #'S IMMEDIATELY-
832-228-1175 & 979-324-1503
Sightings needed!!! Please share him everywhere on Nextdoor, Facebook, Twitter, neighborhood pages, etc... Please search all social media pages daily for sightings of a black dog and comment below. Please search Petharbor and shelter pages.
Again, it's crucial that you call 832-228-1175 & 979-324-1503 (DAY or NIGHT)!!!
Please share everywhere!!!!!
** Guests may comment by entering name and email (email will not be displayed). Members, please log in to comment. **