As Bellaire citizens have been doing their part to keep healthy at home, the generous donation made by PATRONS for Bellaire Parks in October have continued to support the Bellaire community. The Bellaire Parks and Recreation Department staff have been active this past month installing playground equipment donated by PATRONS to make ready the Bellaire parks of Evergreen, Feld and Officer Lucy Dog Park when the 'Stay Home, Work Safe' order is lifted with new equipment that is sure to delight all park goers.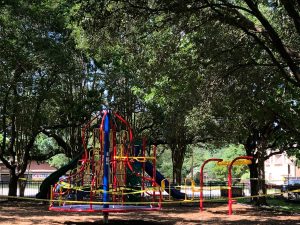 "We are so excited about the newest additions that have been installed the past few weeks, expressed Sharon Veldman, PATRONS President, 'the new tandem Konnection Swings at Feld and Evergreen, the large spinning and climbing 'Rev8' at Feld Park and Agility Canine play features at Officer Lucy Dog Park are such wonderful additions. PATRONS For Bellaire Parks has provided financial contributions specifically for the purpose of funding the purchase and installation of playground equipment at six parks: Lafayette Park, Mulberry Park, Officer Lucy Dog Park, Feld Park, Evergreen Park, and Loftin Park in the City of Bellaire, Texas. These new playground pieces are part of the same donations by PATRONS that placed the Zip-Line in Evergreen Park, and Konnection Swings and Story Balls in Loftin and Lafayette Parks earlier this year.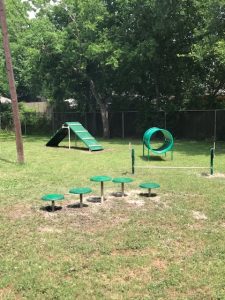 The funds raised at PATRONS events such as Wine and Tapas, Tents in Town, and Dive-In Movie have been utilized to make Bellaire parks a destination for play and socializing, which is something residents are anxious to get back to doing. "Patrons is proud of what we have been able to accomplish due to the generosity of community members and businesses who believe that the joy and laughter our parks provide is something that makes our community a stronger one," explains Kristi Coffey, PATRONS V.P. of Administration. PATRONS had to postpone the annual Wine in Tapas Gala that was scheduled for late March, but expect to be able to reschedule some portion of the event for later this year.
"Space that provides inclusive play opportunities for children of all ages and abilities is a PATRONS goal, and we have been so pleased to be able to work with the Parks and Recreation Department on these goals," explains Win Frazier, Past President. "Playgrounds that are designed to promote inclusion, accessibility and socialization for the healthy development of all children's physical, social, cognitive, and sensory abilities is what PATRONS encourage," adds Veldman.
PATRONS invites all residents to enjoy the new playground features after the parks are reopened and to invest now in our park and green spaces. Now more than ever, we can realize how important this is to our community. For more information or tax-deductible donations go to: www.BellaireParks.org