Camp Paseo Registration Opens February 1
Topic starter
January 20, 2022 5:20 pm
From Belliare Parks & Recreation:
Summer is right around the corner, and registration for Camp Paseo is opening soon! Online and In-Person registration opens February 1 for residents and February 15 for non-residents. Weekly sessions are held for children ages 5-12. Camp is from 8:00am-3:30pm, but before and after camp care are available.
For more information, visit the Camp Paseo webpage or contact the Bellaire Recreation Center at 713-662-8280.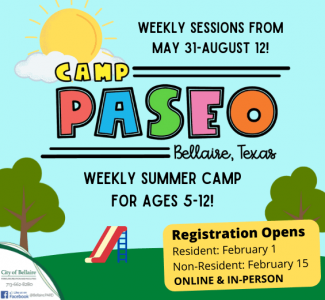 ** Guests may comment by entering name and email (email will not be displayed). Members, please log in to comment. **