New drop off zone at BHS
School begins August 23 and there will be a new drop off zone at BHS along with 2 new traffic lights on S. Rice, one at Maple and one at Holly. Expect delays as school starts and people become familiar with the new traffic patterns.
From HISD:
With our new building comes a few new traffic procedures for everyone to learn!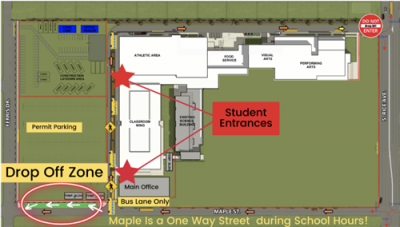 Please note on the image above that the new drop-off zone is on Maple Street as you approach Ferris Street. Once a student exits their car, they should cross the new Bus Lane at a designated crosswalk. They should then proceed to one of the two student entrances. Pull-in parking remains available along Ferris Street.
The dedicated bus lane is one way off Maple and heading North and then East behind the campus. There is not an allowable entrance off of S. Rice Avenue.
If parking on any city street, please be mindful of any posted City of Bellaire parking signs.
** Guests may comment by entering name and email (email will not be displayed). Members, please log in to comment. **