Planned Burn at Houston Arboretum 3/24
Topic starter
March 23, 2022 3:34 pm
The Houston Fire Department will conduct a prescribed burn at the Houston Arboretum tomorrow,
March 24, 2022, at 9 a.m., weather permitting. 
The Arboretum is working with HFD and TPWD to conduct a prescribed fire in the three acre Meadow area. This one-day burn will occur between March 21 – April 21 and is weather-dependent.
HFD says that p
rescribed burns reduce the potential damage a wildfire could cause by reducing available fuels such as dead trees, and more.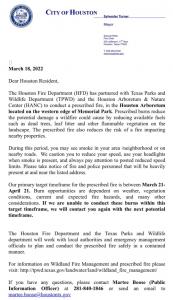 ** Guests may comment by entering name and email (email will not be displayed). Members, please log in to comment. **