Register for Summer Swim Lessons
Topic starter
March 22, 2022 4:07 pm
Register now for the City of Bellaire Group Swim Lessons or Parent-Child Swim Lessons for Summer 2022! 
Group Swim Lessons will be held at the Bellaire Town Square Family Aquatic Center.
Pre-School Aquatics:
(ages 4-5) 10:00 am - 10:30 am
Levels 1-5 (ages 5+) 9:00 am - 9:45 am
Parent-Child Swim Class:
This class is a fun introduction to swim lessons where your baby will learn important safety skills and a love for the water! Having a familiar face in the water alongside an instructor encourages your baby and helps them get excited about being in the water.
Ages
6 months - 3 years
For more information or to register click here.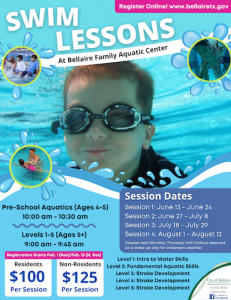 ** Guests may comment by entering name and email (email will not be displayed). Members, please log in to comment. **