Take the Library Services Survey
From the City of Bellaire:
The Bellaire City Library is conducting a survey to get your feedback on library services, programs, collections and more. Your thoughts about the Library, its current services, future services, and the library facility will help us evaluate and grow as an organization to meet your needs.  Help us serve you better and let us know what the Bellaire community wants in their library.
Copies of the survey can be picked up at the library during regular operating hours or complete the survey online.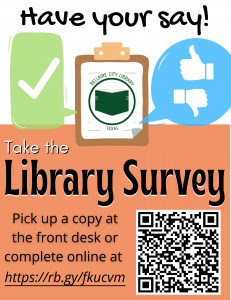 ** Guests may comment by entering name and email (email will not be displayed). Members, please log in to comment. **