Bellaire Police arrest truck theft suspect
Topic starter
February 3, 2023 11:57 am
From the Bellaire Police Department:
On February 2, 2023, at approximately 0430 hours, Bellaire Police Officers located a stolen Ford F-250 pick-up truck at S Rice Ave and Gulfton Street. The truck was reported stolen the day prior through the Houston Police Department. Bellaire Police conducted a high-risk traffic stop at Renwick Rd and Gulfton St. The driver and sole occupant of the vehicle surrendered without incident. Two firearms and a syringe containing methamphetamines were recovered. The victim was able to come to the scene to recover his truck.
The suspect, identified as Joshua Duval, was charged with Felony Theft and Felon in Possession of Firearm. Mr. Duval was also found to be on bond for Unauthorized Use of Motor Vehicle from January 2023.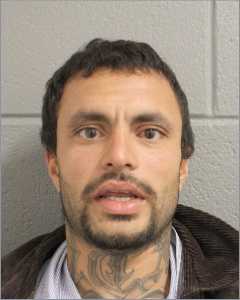 Noticing the similar full neck tattoos from the 3 arrested in the 1/7, 1/13, 1/23 burglaries. Is it gang related? The other guys were running to the same area.
Interesting observation. Probably is gang related.
** Guests may comment by entering name and email (email will not be displayed). Members, please log in to comment. **