At the September 8 Planning and Zoning Commission meeting, Representatives for Houston Methodist presented three different concepts for a medical office building and parking garage on the former Randalls property.
Methodist is interested in consolidating several of its providers already in Bellaire into one building to serve Bellaire and surrounding area residents. All three proposals include a parking garage as part of the design. Two of the proposals would keep the Subway Sandwich restaurant in its current space while one of the designs removes it. The Wells Fargo Bank is not part of the site. The plan would require a Planned Development Application.
The first concept shows a 2 and 4 story stair step building with a max height of 75′. It would have a 5 story parking garage with the first level under the building so that the height of the garage would be slightly lower than the building. The building would provide 173,000 sq. ft. of medical office space. This would be the amount of space needed to consolidate the number of Methodist facilities that are currently in Bellaire.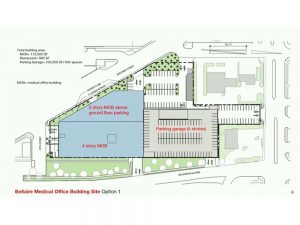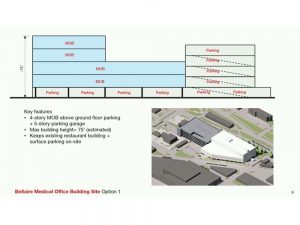 The second concept would have a much lower parking garage as most of the parking would be under the building. The building would be 2 stories above ground floor parking and one elevated level of structured parking. The max heigh would be 40 ft'. There would be 106,000 sq. ft. of medical office space. This option would remove the Subway but the parking could be modified to accommodate it.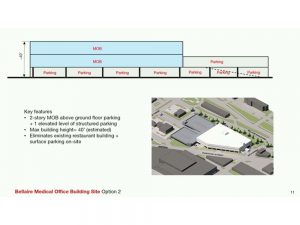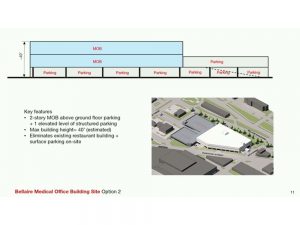 The third concept would be a 3 story building with a separate 4 story parking garage. The maximum height would be 50′. This would provide 110,000 sq. ft. of medical office space. Flood mitigation and green space is included in each design.