The long awaited new ramp from 610 northbound to 59 southbound has finally opened. The improvement to what has been the location of many accidents over the years has been highly anticipated by those who travel the 610 loop. Double lanes will help move more traffic and hopefully ease congestion at that part of the freeway. It will take some getting used to though as drivers will need to be in the far right lanes to get on the ramp. However once it becomes more familiar it should be a huge help in unclogging the intersection at 610 and 59.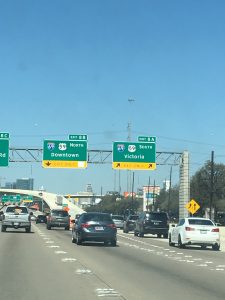 The construction improvements to the I-69 Southwest/I-610 West Loop Interchange began in December of 2017 and are expected to take about 5 years.
The project includes:
– Reconstructing one-lane connectors to two-lane connectors
– Upgrading interchange to current design standards
– Adding shoulders on I-610 West main lane bridge
– Increasing vertical clearances
– Increasing sight distances
– Adding detention ponds
– Eliminating major weaving
According to TxDOT, I-610 West Loop is ranked as the #2 Most Congested Highway in Texas.