This City of Bellaire proposed a new logo to represent the City. The design was unveiled several weeks ago and met with a less than ideal reception.
Along with the new logo design neighbors have been upset over the $50,000 cost incurred for the rebranding proposal. According to abc13.com, City Manager Paul Hofmann pointed out that the cost included font selection, color, and messaging proposals in addition to the logo design.
In the Mayor's latest blog post he points out that "branding is about much more than just a logo. But based on the public input we have received, it's obvious the proposal wouldn't be adopted in its current form and two weeks ago the City Council unanimously agreed not to pursue it any further."
He also said "Council approved the proposed typography, including for signage in the new buildings.  We also formally adopted the verbal identity produced by the branding exercise, which has been very well-received. "
Click here to read the Mayor blog post.
Click here to see the story from abc13.com.
Current Bellaire Logo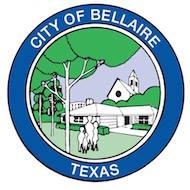 Proposed Logo