Chosen from nearly 10,000 applicants, Owen Zheng, a senior at Bellaire High School from Bellaire, Texas, has been selected as the National Winner of the esteemed $10,625 National Honor Society (NHS) Leadership Scholarship. NHS is supported by its parent organization, the National Association of Secondary School Principals (NASSP).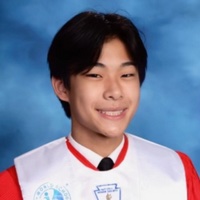 When Owen Zhang was five years old, he lived through the 2009 Urumqi riots in Xinjiang Uyghur Autonomous Region, China. After coming to the United States, he drew from his experience witnessing discrimination and human rights violations to create a nonprofit, Project Lights, Camera, Action, which promotes educational opportunities for Uyghur children and raises awareness about their plight. So far, the organization has donated $9,000 and more than 90 cameras to help Uyghur children document their struggles for the world to see. Owen's activism does not stop there; he spends much of his time advocating for other causes he is passionate about. He founded a second organization, iEngage, to inspire social responsibility in young people through camps focusing on project-based learning and volunteering.
"I feel good when I'm around him," said his NHS adviser Jennifer Lea Kuhleman. "He just emboldens you to be better."
NHS is awarding $2 million in scholarships to 600 high school seniors this year. For the first time ever, four finalists were awarded a $10,625 scholarship for embodying the four pillars of NHS membership: scholarship, service, leadership, and character. The other recipients of these awards are: Pooja Muthuraj from Richmond, VA for Scholarship; Alyssa Speelman from Ashland, MT for Service; and Ethan Sandoval from Pasadena, CA for Character. Twenty finalists received $5,625 and Evan Osgood from Loveland, OH earned the top $25,000 NHS Scholarship. Their bios are here.
"We're humbled to honor these students' powerful initiatives that have help their communities in this time of need," said NASSP CEO Ronn Nozoe. "We need passionate and forward-looking leaders like them who combine their quest of knowledge with service and advocate for systemic change. These winners have outstanding potential, and we're thrilled to be a part of their journey."
The announcement is part of NASSP's Trailblazing Leadership Week, bringing together the 2021 State Principals of the Year and the NHS Scholarship finalists to celebrate their accomplishments and connect with one another. In addition to the gala, the day began at the U.S. Department of Education where officials met with school and student leaders to discuss the most pressing issues in education.