Nathan Maynor, owner of The Sugar Shop Bakery and Gifts in Bellaire, passed away Saturday November 14 after a long battle with COVID19. He was 58.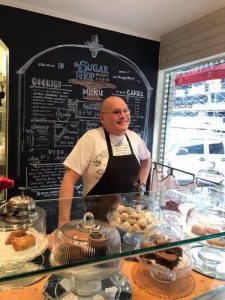 A friend had set up a gofundme to help Nathan pay the rent on his bakery while he was in the hospital. The fundraiser exceeded it's goal of $15,000.
On November 14, an update was shared from Nathan's husband which said, "Heaven has yet another angel … I have lost a wonderful, creative, and loving man. With a heavy heart I am sad to say that after hard fight, Nathan Maynor lost his battle to COVID. I'm am in disbelief as I can't imagine our lives without him. I can't begin to thank everyone enough for the love, support and prayers we have received."
The update also said the money will now be used for medical and final expenses.
Nathan and his treats were loved by many in Bellaire and beyond.
A Celebration of Life Service for Nathan will be held at 2:00 PM, Saturday, December 5, 2020 at Forest Lawn Funeral Home in Beaumont.