Bellaire Police Arrest Attempted Kidnapping Suspect
Topic starter
September 21, 2023 2:05 pm
From the Bellaire Police Department:
On 09/21/2023 at 8:02am, Bellaire Officers were dispatched to a male chasing a female in the 5100 block of Grand Lake. While officers were checking the area for the suspect, a second call was received at 8:10am from the 5300 block of Evergreen that a male had attempted to abduct a female.
At 8:11am a Bellaire Traffic Unit stopped a beige Toyota Camry and located the male suspect that was involved in the previous calls. After an investigation, Amar Barkouda was arrested and charged with attempted kidnapping. It was also discovered that Amar is the suspect in a Houston Police investigation from a similar call on 09/19/2023 in the 5300 block of Jessamine, and a Bellaire Police investigation from 09/20/2023 in the 5100 block of Chestnut. Amar is currently on bond for an aggravated assault with a deadly weapon. Due to the number of calls and nature, the Bellaire Police Department is asking that if this happened to you and you recognize the male as the same person, please call 713.668.0487 (Bellaire PD) or 713.884.3131 (Houston PD).
Great job to the witnesses who called 911 and provided an excellent description and the Officers who quickly located the suspect.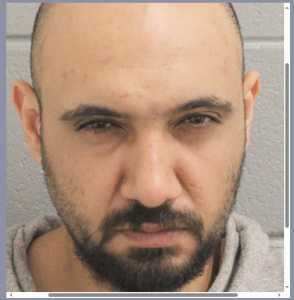 ** Guests may comment by entering name and email (email will not be displayed). Members, please log in to comment. **