BPD Looking for Victims of Package Theft Suspect
Topic starter
September 1, 2023 3:52 pm
From the Bellaire Police Department:
In mid August, the suspect, a passenger in the below vehicle, stole multiple packages with approximately $650 in merchandise from our local residences. Items included a white tank top, toothbrush, eye contacts, makeup, and a few other items.
Unfortunately for the suspect, the new clothing, contacts, and makeup were not enough to keep him from being identified by Bellaire Police Detectives.
Detectives were able to identify him as Shawn D. Rounsville and the vehicle as a white Nissan Pathfinder with fraudulent temporary tag 21219Y9. As of this morning, defendant Rounsville was successfully charged with Class A misdemeanor theft and booked into the Harris County Jail for an unrelated criminal offense.
If you were a victim of package theft or have video of the defendant, his unknown accomplice or this vehicle in the areas of the 100 block of Whipple, 5300 block of Valerie, 4400 block of Dorothy, or any other locations in the city around August 19th or 20th, please contact Detective J. Jenkins at jjenkins@bellairepolice.com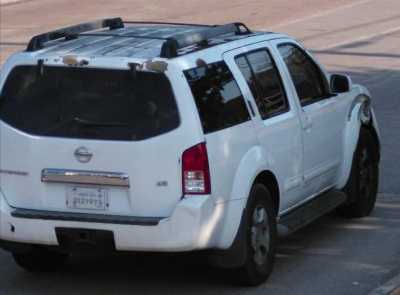 ** Guests may comment by entering name and email (email will not be displayed). Members, please log in to comment. **