West U Home Burglary
From the West University Place Police Department:
UPDATE:
Thanks to the public's assistance, the West University Place Police Department was able to identify, locate, and arrest the suspect, Bryant Thomas, for Burglary of a Habitation. The suspect does have extensive criminal history to include the following: Burglary of a Building, Criminal Trespass, Driving While Intoxicated, Possession of Controlled Substance, Possession of Marijuana, and Theft.
---
WUPD is asking for your assistance. On 7/7/21 at 12:44pm, officers responded to a Burglary of a Habitation in the 2600 block of Centenary that just occurred. The suspect forced entry into the residence, but due to an active alarm the suspect left quickly. If you have any information regarding the identity of this suspect, please contact the PD at (713)668-0330 or email us at Crime@westutx.gov
Suspect vehicle:
An older, white, Mazda 3 with distinctive damage to the passenger side quarter panel of the vehicle. There is also a 4X4 off road sticker on both sides of the rear windows.
Suspect:
White or Hispanic male with a tattoo located on the upper right shoulder and right wrist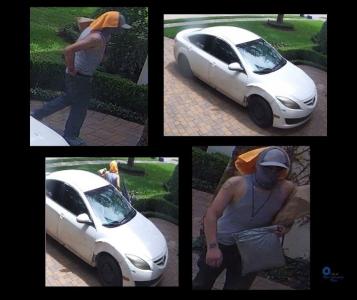 ** Guests may comment by entering name and email (email will not be displayed). Members, please log in to comment. **