In this epic time, your wood fence is not a high priority.
In this epic time, your wood fence is surely not a high priority.
But with "Stay at Home", you will have more time to "think about it".
And please think about us, there are many reasons for letting us restore and preserve your fence -. and maybe your garage door – when "Stay at Home" is lifted.  Balky gates, dog-proofing, and leaning fences, too.
 Working up the proposal, contracting, and payment can all be done via email, no person to person contact needed or required.     All of the work will be done by myself and son Carlos – no transient labor or subcontractors on your property.     
Just this week, I was thinking about "what to do" when my wife Mary Katherine, a special ed (grades 1-5) teacher now teaching them via the Internet, said "I sure could use a new set of shelves, hint, hint."   I do have a workshop at home, but the only materials I had here were a few cedar fence pickets, some deck screws, and some of our "Miracle Juice", the preservative that makes "Old to Gold for Years Untold" possible.
You can see the result in the image below, indeed finished with our "Miracle Juice".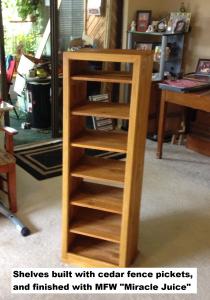 Also, the before and after of a typical Bellaire garage door, done this month.   


You can bring your wood fencing up to par as befits your home for a fraction of the cost of a new fence.  The kicker is that a new fence will turn to grey and warped long before a MFW restored fence will still look sharp and retain its gold/beige appearance.    It is all based on Preservation Technology.  
Thanks for reading this, be safe.
Larry
MiracleFenceWorks.com  LDJones59@yahoo.com  844-744-4050
As long as you need it to last.      Please email me at LDJones59@yahoo.com to arrange for a no obligation assessment of your fence and available options.     For more information, click on this link.
Thanks,
Larry D. Jones
Miracle Fence Works
** Guests may comment by entering name and email (email will not be displayed). Members, please log in to comment. **