Found: Male Puppy 9/26/23
Topic starter
September 27, 2023 2:07 pm
From Friends of the Bellaire Pound:
FOUND 9-26-23: MALE PUPPY @ BELLAIRE POUND!
This small, young puppy was found today on Evergreen in the City of Bellaire, Texas. He had a leash attached to a collar, however no tags or chip. He is now on a 72-hour stray hold. The pound is back up to 4/5 kennels full after the Yorkie left to foster yesterday. Updated Bellaire Police policy now allows for euthanasia anytime after 72 hours for space. The 3 larger dogs are now past this time and could be euthanized with the next intake. This dog is safe for 72 HOURS ONLY for a stray hold, then could also be euthanized for space by the city.
To save a life by adopting, rescue tagging, or fostering, particularly our beautiful larger dogs, email us at friendsofbellairepound@gmail.com. If this is your puppy only, call the Bellaire Police Department at 713-668-0487. Officers will require proof of ownership including photos and vet records to claim. No free puppies here.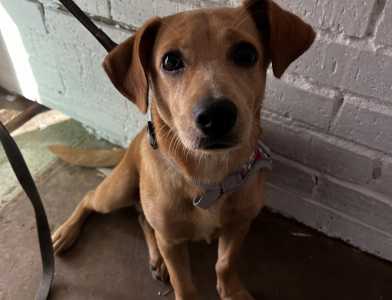 This puppy obviously belongs to someone and is missing. In order to claim him it sounds cruel to state "proof of ownership"…."no free puppies here". Are you saying that euthanasia is preferable to giving this pup to a willing caregiver? 
Topic starter
October 12, 2023 10:20 pm
Thank you for your concern for this puppy. An owner did not come forward and he was taken in by the Dachshund Rescue Of Houston. He is now available for adoption. 
The rescue posted this information on their Facebook page:
"Today's featured foster is Murphy Oakley. Murphy is a fan favorite! He is the sweetest boy and everything you would expect from a puppy. At just 7 months old Murphy is great in a crate but still working on his housetraining. He's a 17 lb. boy with a little mix in him, but he's not expected to get much bigger. Murphy is a fun loving, playful boy who wants a family to call his own.
To learn more about Murphy, you can visit his profile page at https://www.droh.org/animals/detail?AnimalID=19835996 Applications to adopt or foster can be found on the DROH website."
The reason proof of ownership is required to claim dogs in the pound is to ensure that the dogs go to their rightful owners. Although many dogs that end up in the pound are dumped or are strays, The Friends of the Bellaire Pound volunteers work tirelessly to find them a place in a rescue or foster situation so that their lives can be saved.
** Guests may comment by entering name and email (email will not be displayed). Members, please log in to comment. **