Paradigm Training Center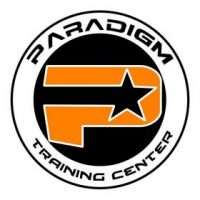 ---
Paradigm is a fitness and martial arts training center like no other! Whether you are looking to begin a new hobby, are an athlete who wants to improve performance, or you just want to get in shape and look your best, Paradigm is the place for you!
As former collegiate wrestlers, we understand the positive impact that martial arts can make in one's life. We must be challenged if we are to grow as individuals, which mean having dreams, developing goals and learning to work to attain those objectives. Towards that end, in 2009 we started Paradigm to fulfill our mission "To enrich lives, build community, and equip our youth to become champions in life".
Today, Paradigm has a staff of over 10 fitness and martial arts professionals dedicated to helping you reach your HIGHEST POTENTIAL! Whether you want to lose weight, have fun, or compete at the highest level, we will motivate and inspire you to achieve your goals.
Kids Class in the Paradigm Training Center / GF Team !!
Paradigm Studio (5401 Bellaire Blvd.) ~ Monday and Wednesday - 5:30 to 6:20
Paradigm Studio (5756 S. Rice Ave.) ~ Friday - 4:30 to 5:20
Paradigm (10500 W. Bellfort) ~ Tuesday and Thursday - 5:30 to 6:20
Sign up for Summer Youth Brazilian Jiu Jitsu.
Brazilian Jiu Jitsu (BJJ) is a style of grappling that evolved from Judo in Brazil. Like Judo, BJJ emphasizes the use of technique and leverage to conquer brute force, often enabling smaller athletes to defeat bigger and stronger opponents. Because of this, BJJ is sometimes referred to as "arte suave" (the gentle art).
MARCUS BELLO
BJJ Instructor/GFTeam Blackbelt
Marcus Bello is a World-renowned Brazilian Jiu Jitsu coach and competitor. With over 20 years of experience, Coach Marcus was also the co-founder of the most successful BJJ team in Brazil, GFTeam. Since relocating to Houston, Marcus has continued his record of success, winning a World Championship at the black belt level in 2016. Training with Coach Marcus is a huge opportunity to learn from a legend of the sport. Coach Marcus is highly respected in the community; he and his wife Yule, and son Lucas reside in Bellaire.
For more information please contact info@paradigmtrainingcenter.com or 713.660.9442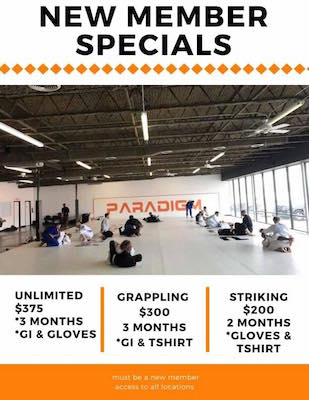 ---