Archway Academy is hosting a Holiday Art Show, an online art show and exhibit. The online show can be accessed through Archway Academy's website and will run through Thursday, December 31st. The art show highlights the power of creativity for building and sustaining lasting recovery. Archway Academy's Holiday Art Show will feature the work of local and national artists throughout the month, as artists will share their incredible journeys with addiction, behavioral/mental health issues and recovery through art and self-expression. Submissions are open to anyone connected to recovery or mental/behavioral health issues (affected person, family member, friend or ally).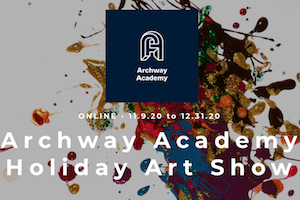 Lavish your loved one this holiday season with a gift that gives. Purchase a one of a kind, tax-deductible, art piece and give your loved one a beautiful work of art to display WHILE giving a student in need the beautiful gift of recovery.
Archway Academy invites all to engage with the show, appreciate the artists and collaborate with the organization to expand the continuum of care for adolescents who struggle with substance use disorders and co-occurring issues. As an organization that advocates for recovery, Archway Academy hopes the online art show and exhibit will inspire those who continue to struggle with a substance use disorder or behavioral/mental health issues and spark dialogue that will expand public awareness.
Art will be available to purchase online. A portion of each sale will go directly to the Archway Student Scholarship Fund. Viewers will also have the option to donate directly to Archway Academy to provide scholarship funds for students who cannot attend Archway without vital financial support. Donations can be contributed at the following link: https://app.mobilecause.com/e/k5A4ew?vid=bknaj, or text "ARCHWAY" to 91999.
The online art show & exhibit is free and open to the public to view and submissions will be open and added to the gallery throughout the show.