Bellaire City Council voted, in the August 20 council meeting, to set a new standard for sidewalks at 5 feet wide.
While the new standard will apply to new sidewalks being built during street reconstruction and for new home construction, it may not apply when there are already 4 foot sidewalks on a street.  The City Manager and staff will have discretion when building a new sidewalk to determine what width will be appropriate. Existing 4 foot sidewalks will not be affected by the change.
This new standard follows the standards set forth in the City of Houston and other area cities.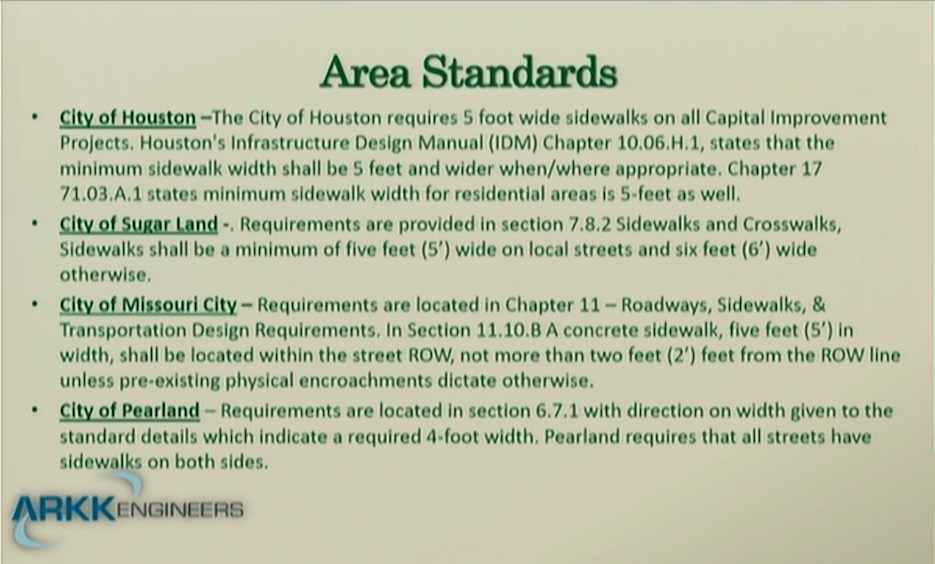 Council also voted to move forward with Group D Phase 1 and 2 of sidewalk construction and consider these phases at future council meetings. Phase 3 has been put on hold and any money allocated for sidewalks that is left over from Phase 1 and 2 will be diverted to streets and drainage.
Phase 1 includes the following streets:
Remove and replace or add new sidewalks to the following blocks:
4700 – 5000 Blocks of Braeburn Drive
4500 – 4600 Blocks of Holly Street
4600 Block of Laurel Street
4600 Block of Oleander Street
1000 Block of Pauline Avenue
5000 – 5100 Blocks of Pine Street
5300 Block of Pine Street
4500 Block of Teas Street
4800 – 4900 Blocks of Valerie Street
4500 Block of Verone Street
Phase 2 includes the following streets:
Remove and replace or add new sidewalks to the following blocks:
5200 Block of Willow Street
5200 Block of Laurel Street
5200 Block of Linden Street
4800-4900 Block of Cedar Street
4800-4900 Block of Spruce Street
5000-5200 Block of Locust Street
5100 Block of Huisache Street
4800-4900 of Chestnut Street
3rd Street from Bellaire to Jessamine