You can become a member of Evelyn's Park
When you become a member of Evelyn's Park, you join an alliance of other individuals devoted to keeping our park and our community a vibrant, flourishing force. Your support helps us beautify our grounds, enrich our programming, and continue free events and milestones that make Evelyn's Park a community gathering place.
Enjoy special park perks including exclusive discounts, special invitations and member merchandise all while preserving picnics for generations to come.From seedlings to sycamores, your evergreen
contribution impacts Evelyn's Park. Start enjoying all your membership benefits as soon as possible. It Pays to be green.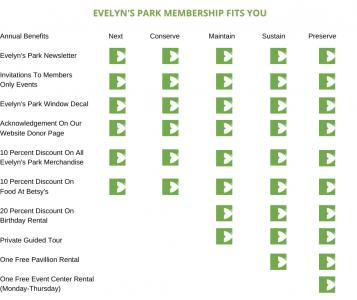 ** Guests may comment by entering name and email (email will not be displayed). Members, please log in to comment. **