The Board of Directors of Evelyn's Park Conservancy in Bellaire has announced the appointment of Terry Leavitt-Chavez as Park Director.  Leavitt-Chavez served as Interim Park Administrator since July 1, 2020 and was an active member of the Board since June of 2015.  Her duties will include partnering with the Board to establish goals, implement programs to meet community interest and manage the Park's finances.  She will work closely with the Department of Park's & Recreation to maintain the facilities and grounds.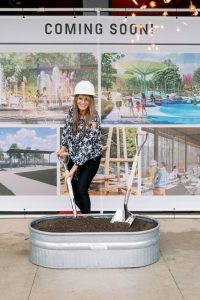 Leavitt-Chavez is the owner/consultant of Gallery 3, a contemporary event art gallery.  From 1996-2010 she served as Director of Planning and Allocations for Stage Stores, Inc. where her focus was on executing strategic initiatives to grow sales.
Active with the Bellaire Cultural Arts Board and Patrons for Bellaire Parks, Leavitt-Chavez has wide experience working with volunteers, non-profit Boards and the City of Bellaire.
"We are extremely fortunate to have Terry leading Evelyn's Park at this time of both challenges with the pandemic and great new opportunities coming with the development of our Phase 2 project" stated Jerry Wische, Board President.  The Board is beginning the 2021 term with the retirement of member Suzi Weinstock and the addition of new member, Joel Goldberg.   As Park Director, Leavitt-Chavez will give up her City-appointed Board position, The City has posted acceptance of applications for the seat.
For information, contact jwische@gmail.com