On June 26, Harris County Judge Lina Hidalgo raised the current level of risk from COVID-19 to 1 which is the new color coded system's highest level.
Level 1: Stay Home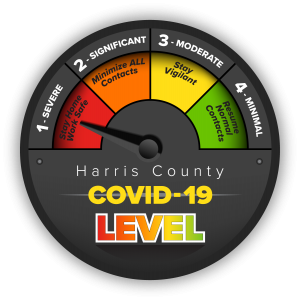 Readyharris.org states "Level one signifies a severe and uncontrolled level of COVID-19 in Harris County, meaning outbreaks are present and worsening and that testing and contact tracing capacity is strained or exceeded. At this level, residents take action to minimize contacts with others wherever possible and avoid leaving home except for the most essential needs like going to the grocery store for food and medicine.
Regardless of current level indicated, all residents should continue the use of social distancing, frequent hand washing, and the use of face coverings until there is a vaccine or a treatment for the virus. Additionally, residents exposed to COVID-19 should quarantine for 14 days regardless of level indicated."
Governor Abbott issued an executive order today that requires the following:
— All bars and similar establishments that receive more than 51% of their gross receipts from the sale of alcoholic beverages are required to close at 12:00 PM today. These businesses may remain open for delivery and take-out, including for alcoholic beverages, as authorized by the Texas Alcoholic Beverage Commission.
— Restaurants may remain open for dine-in service, but at a capacity not to exceed 50% of total listed indoor occupancy, beginning Monday, June 29, 2020.
— Rafting and tubing businesses must close.
— Outdoor gatherings of 100 or more people must be approved by local governments, with certain exceptions.