PATRONS for Bellaire Parks announces new library services:
A new concept in Library Services that the entire family can enjoy is coming soon to Bellaire. Outdoor services for residents to relax, read, play and explore will soon be a new feature at the Bellaire Library through a gift by PATRONS for Bellaire Parks. PATRONS presented a proposal that was approved by City Council on October 18, 2021 to develop as new outdoor greenspace in the adjacent lot to the library. The project was developed through a joint collaboration with PATRONS, the staff of the Bellaire Library, Parks and Recreation Department and with the support of Friends of the Bellaire Library.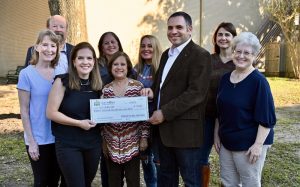 "The approved greenspace will be funded through a $70,000 donation by PATRONS for the project. We are thrilled to be a part of this project and delighted to help extend library services in Bellaire," states Julie McNee, PATRONS President. The unprecedented COVID pandemic revealed the interest of residents for activities in community areas such as parks. One treasured City institution that was greatly affected by lack of outdoor functional space was the Bellaire Library. "The existence of a City-owned vacant lot next to the Library, across Jessamine street from the Police Department and Bellaire Little League field offered a prime opportunity to marry PATRONS' mission with a project that would greatly benefit a huge sector of our community,' explains PATRONS Past President, Kristi Coffey.
By utilizing the greenspace around the library visitors to the library will have access to library services while enjoying the outdoors. The greenspace will enhance the existing services by including a passive area where the community can come to read a book, play a game of chess, study or enjoy a picnic lunch with a friend. There will be an installation of "Story Walk Stands" that will allow pages of a book or informational sheets to be displayed on a path of exploration. The Story Walk promotes literacy, reading, health, exercise, and movement, which enables an adventure in reading and the outdoors at the same time.
Additionally, PATRONS inquired about the opportunity to provide features such as shade and outdoor learning equipment in the green area behind the Library, so that valuable library activities such as story time and other educational offerings could be conducted outdoors. Friends of the Bellaire Library are adding an additional $4000 to support the expanded children's services. Director of Library, Mary A Cohrs, expressed the excitement of all the Library staff and personnel for the project in stating, "I believe that this collaboration will not only positively impact library services, but the community as well and I can't wait to see it get going!" Karl Miller, Director of Parks, Recreation, and Facilities added, "We are very excited about this project; it will have a tremendous impact on the Library."
Patron's guiding values are to benefit the Bellaire community through its support of Bellaire parks, greenspaces and programs. PATRONS for Bellaire Parks has accomplished momentous achievements since its beginning in the early 2000's by donating funds for the completion of Belaire Town Square and the Aquatics Center. Most recent gifts have been the donation of playground equipment for limited ability children, as well as unique play features such as the Zipline at Evergreen Park, Story Balls in several Bellaire Parks and the Rev8 in Feld Park. Plans for fundraising in the upcoming year are underway as PATRONS continue their commitment to the City of Bellaire. Annual fundraising events support these donations. The 12th Annual Tents In Town will be November 13th and Wine and Tapas is scheduled for March 26, 2022.
"PATRONS has historically been a leader in providing more and better parks and recreational facilities and programs for Bellaire residents. It's a great place to work, play and call home. Our wonderful Park System is one of our most important amenities that gives our 'City of Homes' increased value, desirability and sets our community apart. Their value has been more evident as we have looked for healthy ways to get out of our homes and be safe. They add value to our community in countless ways" expresses McNee.
About PATRONS for Bellaire Parks:
PATRONS for Bellaire Parks (PATRONS) is a 501(c) (3) non profit volunteer based organization that is dedicated to enriching and enhancing the well-being of the community through funding recreation and arts programs, services and facilities for adults and children through the public parks of Bellaire, Texas. Contributions are tax deductible to the extent allowed by law. Additional information about PATRONS and their current projects is available at www.BellaireParks.org