PATRONS for Bellaire Parks invites the community to join them for "Clicks, Corks, & Contributions," a virtual gala supporting neighborhood parks. Commencing August 13th, the gala will be a multi-day event featuring an online auction, cork pull, and raffle with gala. Proceeds from this online fundraiser will be distributed evenly among three much-loved neighborhood groups: Evelyn's Park Conservancy, Nature Discovery Center, and Bellaire Little League. PATRONS postponed their largest annual fundraiser, the Wine and Tapas Gala, due to the COVID pandemic. The generosity of community members and local businesses resulted in an abundant array of auction and cork pull offerings, of which PATRONS are thrilled to offer to raise funds for such wonderful neighborhood organizations and their green spaces.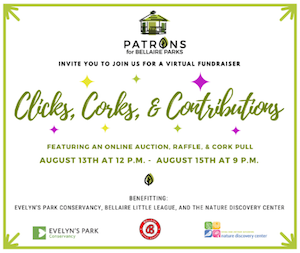 The auction boasts over 50 items donated by local businesses. Some of the items that will be offered are a 2017 Astros World Series Carlos Correa Autographed Ball, Autographed Earl Campbell Jersey, One Year Loftin Playground Naming Rights, Happy Hour for 20 at Upstairs Bar & Lounge above Hungry's, a $2500 certificate towards orthodontic treatment at Contemporary Dental and Orthodontics and much, much, more! The bidding will commence at noon on Thursday, August 12th and will end at 9 p.m. on Saturday, August 15th.
The ever-popular cork pull features a treasure trove of opportunities for wine enthusiasts with over 75 bottles of wine. All wine included in the virtual cork pull is rated at 90 points and above, with several bottles ranging over $150 each. Some of the prime bottles include a Sheridan Block 1 Cabernet with a 99 rating, a Dominus Cabernet with a 100 rating, and a Bevan Red EE Oakville Cabernet with 97 rating. Tickets for the raffle items will be offered at $10 per ticket. One of the raffle prizes titled "Women on the Go" raffle donated by Evelyn's Park Conservancy will feature a pair of coveted Grey Goose sneakers, gift cards for local clothing boutiques and more. The Nature Discovery Center will offer a catered party at their outdoor pavilion for 15 people. The lucky winners will pick up their items in the Evelyn's Park Conservancy parking lot via curbside delivery in the days after the online event.
Betsy's Restaurant will offer two specialty packages in honor of the online gala, with 25% of the proceeds going back to Patrons for Bellaire Parks. Packages will include your choice of red or white wine flights with Dairymaids cheese, cured meats, honey, fruit preserves and nuts. Packages may be reserved online at betsysbellaire.com.
The new tandem Konnection Swings at Feld and Evergreen, the large spinning and climbing 'Rev8' at Feld Park and Agility Canine play features at Officer Lucy Dog Park are just several of the wonderful additions PATRONS For Bellaire Parks has funded in the past year. Financial contributions made by PATRONS have funded the purchase and installation of playground equipment at six parks: Lafayette Park, Mulberry Park, Officer Lucy Dog Park, Feld Park, Evergreen Park, and Loftin Park in the City of Bellaire, Texas. These new playground pieces are part of the same donations by PATRONS that placed the Zip-Line in Evergreen Park, and Konnection Swings and Story Balls in Loftin and Lafayette Parks earlier this year.
PATRONS events coupled with the generous support of our community have resulted in beautiful parks and structures throughout Bellaire. Since inception, Patrons for Bellaire Parks raised over $2 million for the benefit of local parks and facilities. PATRONS for Bellaire Parks is a 501(c) (3) non-profit organization. For more information about Patrons for Bellaire Parks and their events, visit www.BellaireParks.org.
For more information about the event, including sponsors and community supporters, an auction preview, and additional information about the cork pull and raffle, click here.
Register for Clicks, Corks & Contributions