The Friends of the Bellaire Library (FOTBL) is pleased to announce the Fall Book Sale to be held on Saturday, October 13, from 9 a.m. to 2 p.m, in the Bellaire Library parking lot, 5111 Jessamine in Bellaire, and from 2 p.m. to 4 p.m. inside the Library.
The sale, held twice annually, is the major fundraiser for the Friends and all proceeds benefit the Bellaire City Library.  Rachel Cruz Auwarter, President of the FOTBL, emphasizes the importance of the book sales.  "Year after year, the Friends' Book Sale raises valuable funds for the Library.  Proceeds from the sale are used to purchase materials, programs, and patron services that are not normally provided for in the Library's operating budget.  We have a large selection and hope that book lovers and bargain hunters will join us on October 13 and help give our books a good home."
Mary Alford Cohrs, Library Director, is delighted that students in the student of the Bellaire Youth Council on Service, the Leading Ladies community service organization and National Honor Society of Bellaire High School volunteer to help set up in the morning and return in the afternoon to help clean up and prepare for the next sale. "The Youth Council on Service students have done this for over 15 years and they have made a huge difference in helping the sale go smoothly." she says.
Featured book categories include children and young adult, general fiction, mystery, cookbooks, history, sci-fi/fantasy, religion, biography, art, coffee table, and collectibles.  Hardbacks are $1; Paperbacks are $0.50; DVD and CD bundles are $1.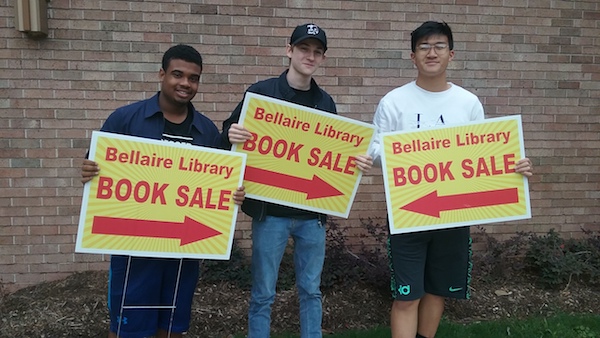 PHOTO: Students of the Youth Council on Service will be among the many volunteer groups lending a hand with FOTBL board members to make the Bellaire Library Book Sale a success this Saturday, October 5th from 9am to 2pm.
…
The Friends of the Bellaire Library was established in 1951.  Its mission is to support the Bellaire City Library.  Over the years, the Friends have provided both volunteer and fundraising support to assist the Bellaire City Library.  The Friends of the Bellaire Library is a 501 (c) (3) non-profit organization, and all contributions are tax deductible to the full extent of IRS regulations.