The Military and Hospitaller Order of Saint Lazarus has stepped up to support Nora's Home, Houston's haven for organ failure and transplant patients receiving care in the Texas Medical Center, by presenting a check to the organization for $25,000 on Wednesday, March 21, 2018.
The Order's primary purpose is charitable work related to medical humanitarian care. The mission of the Grand Priory of America's Charitable and Hospitaller work is to support The Order's two flagship programs: Organ/Tissue donation awareness and Hansen's disease (leprosy).
"The Order is dedicated to creating awareness for organ and tissue donation along with educating others about the importance of saving lives," said Chuck Riepe, Member of The Military and Hospitaller Order of Saint Lazarus. "We're confident that Nora's Home will help spread awareness and education throughout the Houston community and beyond while it continues to support organ patients and their families."
The Order has a strong commitment to the field of Hansen's disease and all aspects of organ and tissue donation including awareness and pre and post-transplant care. To continue supporting its programs, The Order's National Conference will be held in Houston on Thursday-Saturday, October 11-13, 2018. The Grand Prior, Kenneth Moritsugu, is a former United States Surgeon General and advocate of organ donation and transplantation.
Natalie Raymer, Executive Director, Nora's Home added: "Nora's Home is grateful for The Order's generous assistance as we prepare to more than double in size. As we grow, we will continue to grow our efforts in educating our community about the gift of organ donation."
Nora's Home collaborates with many of the Texas Medical Center's health care providers and hospitals to make Houston the national leader in caring for patients facing the unique challenges of end-stage organ disease and transplantation. This haven has provided over 20,000 stays to more than 800 patients and their families from across the U.S. since opening its doors in 2013. Currently, Nora's Home can only accommodate one out of every five requests for lodging due to the high demand.
For more information about Nora's Home, please contact Natalie Raymer, Executive Director, at 832-831-3721 or email natalie@norashome.org.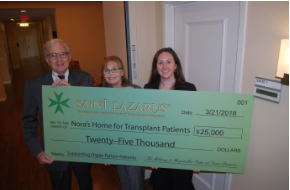 Chuck Riene, Member of The Military and Hospitaller Order of Saint Lazarus; Kayla Lehmann, Executive Vice President; Natalie Raymer, Executive Director.

About Nora's Home

Opened in 2013 as the first transplant hospitality home in the Gulf Coast region, Nora's Home welcomes patients and their families at any stage of the transplant journey. The hospitality home aims to ease burdens many patients face by helping reduce the immense expense and stress incurred while undergoing transplant care by providing affordable lodging in a loving, home-like environment. Located at 8300 El Rio Street in Houston near the Texas Medical Center, the self-supporting facility includes 16 private bedrooms and baths, a fully-equipped kitchen, community room, meditation room, education center, and provides free shuttle services to and from the medical center. In the summer of 2018, Nora's Home will more than double in size with the addition of 16 rooms, communal kitchen, and multiple family areas and meeting rooms. For more information, visit www.norashome.org, call 832-831-3720.