The new Bellaire H-E-B will open its doors at 6 AM Wednesday, June 27.
According to Chron.com, the new store will have "225 parking spots on the ground floor and a 78,000-square-foot store with more than 70 parking spots on the second floor. Shoppers use escalators and elevators to go between the floors."
"The Bellaire store, 5106 Bissonnet, has sections for produce and meat, seafood and sushi, a bakery and tortilleria, a deli, cooking demonstrations, a pharmacy and an outdoor gardening area. The store, which features an interactive light art exhibit, will also offer curbside grocery pickup and prepared meals."
This is the first two story H-E-B in the Houston area but two more are coming soon, one in Meyerland and one in the Heights.
See a sneak peek of the new store and read the full story on Chron.com.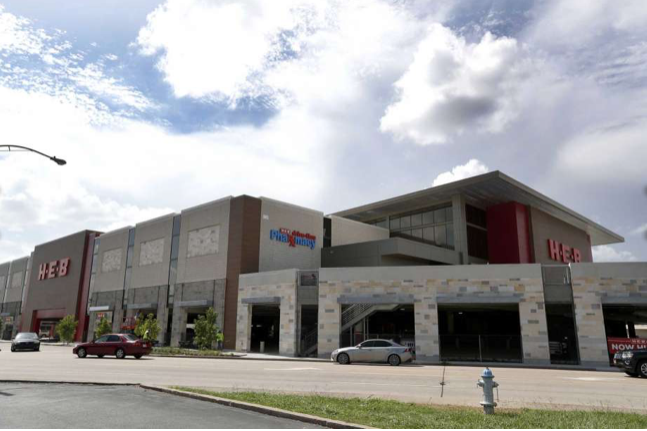 Photo: Karen Warren, Houston Chronicle
From the HEB.com website:
Bellaire Market H‑E‑B opens on Wednesday, June 27, 2018. Located at 5106 Bissonnet in Bellaire, we are open daily from 6am – 11pm.
Highlights from the new store include:
Market: Prime & Natural Beef cut fresh in-store plus the meaty selection you are craving!
Seafood: Reel in your favorite catch with fresh seafood selections delivered daily!
Sushiya: Freshly-prepared gourmet sushi including: Brown Rice, Sashimi, Cooked Rolls, and Vegetarian options.
Produce: Featuring local and organic produce, fresh squeezed juices and guacamole made fresh in-store!
Scratch Bakery & Tortilleria: Naturally leavened breads, fresh tortillas & decadent desserts made fresh in-store!
Deli: Including fresh-cut artisanal cheeses, charcuterie plates and in-house roasted meats.
Cooking Connection: Live cooking demonstrations with daily sampling by our in-store chefs.
Healthy Living: Bulk foods, vitamins and sports nutrition options to help meet your health and wellness goals.
Pharmacy: Drive-thru lane for convenient service plus the personal attention you can count on every visit.
Texas Backyard: Make your backyard flourish all season long! Grilling, Gardening, Outdoor Entertaining – check!